The Verse's Hannah Aston reflects on Stress Awareness Month this April, what students can do to manage increasing levels of stress, and how national awareness of stress is gaining more recognition
Launched in 1992, Stress Awareness Month aims to promote the recognition of stress every April, and advertises what can be done to help manage stress. Considering one of the demographics seeing the highest rise in stress and anxiety is students, just how much help is out there?
Recent studies have been conducted into just how many people suffer from stress and anxiety related issues in the United Kingdom. The results have to make us question, what can be done? Over 37% of the nation's population feel stressed for a least one full day per week (FORTH, 2018) with at least 85% of UK adults experiencing stress on a regular basis. In a society where the emphasis is so heavy on financial stability, security and prosperity, what does this cost us in terms of happiness, and wellbeing?
For students, awareness is key, now more than ever. Deadlines, financial stress, debt, an unstable economy, and the notion that our government doesn't fully understand or support this demographic (students wait 4 months for counselling at universities). All of this combines to make education the third highest industry with a higher than average level of stress and anxiety (HSE study, 2017). This means that alongside students, our lecturers and those working in education are experiencing a higher than average level of stress than in other industries. Surely something this widespread should be gaining more awareness? Luckily, this seems to be the case.
According to a study done by Labour Force Survey in 2017, females aged 16-24 were suffering significantly more than males of the same age range. The time when most young people are either in higher or full-time education. Or are employed, and facing the complexities of the working environments already. The number of students suffering from stress or anxiety-related mental health issues is increasing, with one in four suffering as of 2016. Not surprisingly, the biggest source of stress in students is the university process itself (71%). While the next biggest worry is finding work after university (39%), and then family-related concerns (35%). More recent studies such as the surveys conducted by FORTH, suggest that students are the highest demographic to suffer from stress.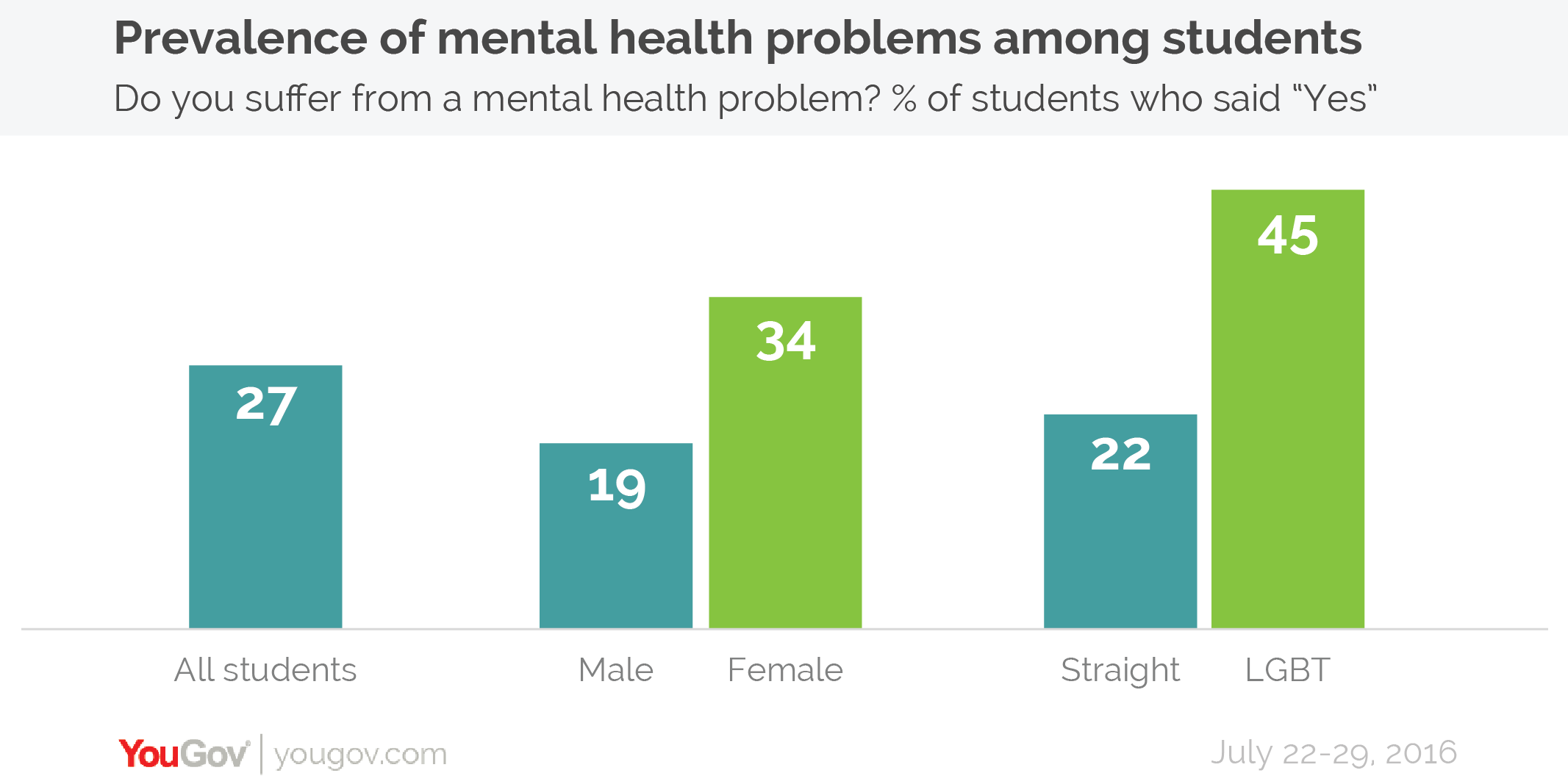 So this Stress Awareness Month, what can you do to promote awareness, and manage your own stress levels? Fortunately, more apps, websites, online counselling and organisations are recognising that students especially need a helping hand when it comes to managing stress. Online therapy is becoming more prevalent and in our technology-obsessed society, this actually could work in our favour.
National movements such as University Mental Health Day (UMHD) is a national campaign to promote awareness for students and mental health issues across the UK. Organisations like University Mental Health Advisors Network (UMHAN) provide support, formed of mental health experts working in the Higher/Further Education industries, to support students from a grassroots level. Local support charities, university guidance counsellors and student support are working to give students the space, advice and support needed. Make sure to check out your local student support office for help on where to find internal university counselling, and even help for affordable counselling outside of the university.
Websites such as the NHS's Moodzone – audio podcasts and videos – are gaining traction. Mental Health Charity Mind constantly promotes awareness of stress and anxiety, its effects, and advice for mental wellbeing. Student Minds is also the UK's foremost student mental health charities; offering advice and support to students all across the UK.
Downloadable applications such as MyTherapy have been developed for students, by students, to make dealing with mental health easier. Managing medication, improving connections with your doctor, and monitoring your progress. MyTherapy aims "to simplify your treatment plan no matter how complex it is and to make it possible for you to take control of your own health." Whilst For Me is 'the first app to counsel young people via their smartphone'. Supported by Childline and the NSPCC,  it helps young students and children with social and familial issues. Coverage regarding student mental health and what needs to be done in national newspapers such as the 'Guardian Students' section, and their previous coverage on 'Mental Health: A University Crisis' only improves the chances of students really getting the awareness they need!
Overall, keep calm, there's help at hand. April's Stress Awareness Month is one of many first steps in recognising the prevalence of mental health issues in our every day lives. Not just in students but in a staggering number of young people, adults and elderly.
For the first basic steps on how to manage stress, check the NHS's website, find your university's guidance counsellor or student support staff. Check out local counselling services which might be available to young people and students. And remember, universities and experts are recognising the good work that therapy dogs are doing. So keep an eye out for university events that could help you, especially with bonus furry friends involved!
Other helpful sites: